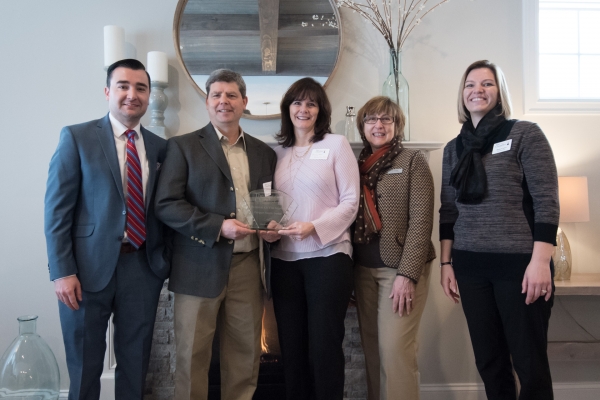 The husband-wife team of Drs. Jeff and Mary Ann Panara founded Fairport Family Dental to pursue their shared passions of art, science, and service.  Now, Fairport Family Dental is the January Fairport-Perinton Chamber Business of the Month.
Drs. Jeff and Mary Ann have been practicing for a quarter of a century.  Initially operating separate practices, they merged in 2000 and have been located in their Fairport office for the past 17 years.
What will you find at their office?  "Technology, with a personal touch" stated Chamber Board of Director Kellie Wright.  "In fact, their office sets the standard on what to expect when choosing a dental practice.  They have so much to offer!"
Fairport Family Dental's wealth of technology is a result of their commitment to keep updated on all of the latest developments in dentistry.  They have found that state-of-the art equipment and techniques help them to deliver quality service faster, with the comfort of each patient in mind.  They specialize in full comprehensive dental care and long term dental-health planning.  One of their specialties is in the field of Sleep Apnea; another specialty is custom shading of same day crowns.
Both Drs. Jeff and Mary Ann echo the value of their loyal team, "We have gathered a talented group of professionals with shared values.  We all work toward common goals, which create a warm and inviting atmosphere for our patients and our team."
Changing lives is the most rewarding part of the practice.  Recently a woman was seen, who has always felt self conscious about her front teeth.  After restoring her smile with veneers and crowns, fabricated in our office, her smile reappeared along with her confidence!  She only wished she had done it sooner.
The Fairport-Perinton Chamber was recently hosted by Fairport Family Dental at an after-hours gathering to introduce their staff and show off the state-of-the-art technology in use.  Chamber members take turns inviting Chamber visits to build a familiar and cohesive membership.  Additionally, Fairport Family Dental is active supporting various Fairport sports teams, participates in the 7th District Dental Society, and involved in their church community at St. John of Rochester.