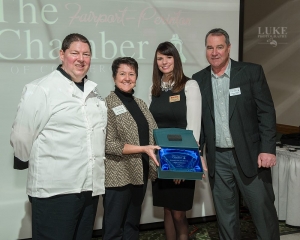 Video is desired as an entertainment and communication source and a major success factor for businesses to be found online.  The Fairport-Perinton Chamber of Commerce's January Business of the Month understands these concepts and so do their senior residents.
The Maplewood Estates, 55 Ayrault Road in Fairport, is owned by Holiday Retirement.  This corporation is the founder of independent living for seniors, started in 1971.  Here in Fairport, The Maplewood Estates opened in 1999.  They are the January Fairport-Perinton Chamber Business of the Month.
This community is family oriented.  Residents reside in studio, one and two-bedroom apartments and have access to a large dining area and a private dining room.  These larger spaces can accommodate extended family gatherings, which are encouraged.  Guests can stay over night too.  The staff reinforces this family atmosphere as they interact with residents and other staff members.  They are also ready to respond to the physical needs of residents and staff through the service of a full-time nurse, from Interim Health Care.
Now for the video ~ Holiday Retirement held a regional dance competition and Maplewood won first place!  Ravan Cozan-Pierce is the Maplewood Activities Director who led the challenge.  Twenty residents participated, learning two dances to two song titles:  New York New York; I'm Sexy and I Know It. In keeping with the "family" culture, families also joined in on the fun. The prize - - $500.00!  View the action at:  https://www.youtube.com/watch?v=ecPMvp6otBw
Thomas Cappon, the Manager of Sales at Maplewood, is on the Chamber's Board of Directors.  He is also a member of G.R.A.P.E., Greater Rochester Area Partnership for the Elderly, and is actively involved in local senior centers. Tom also champions residents' community service work with adopting families during the holidays, collecting school supplies for schools in need, and supporting young mothers in need through the March of Dimes.  
Thomas Cappon stated, "I can introduce you to our Maplewood Estates family.  Contact me at 218-9570 or Thomas.Cappon@HolidayTouch.com.  We want Fairport to know about our family treasure, and maybe someday, we can meet the needs of your loved ones.  Being named Fairport-Perinton Chamber Business of the Month aids in our community visibility too, for which we are grateful."